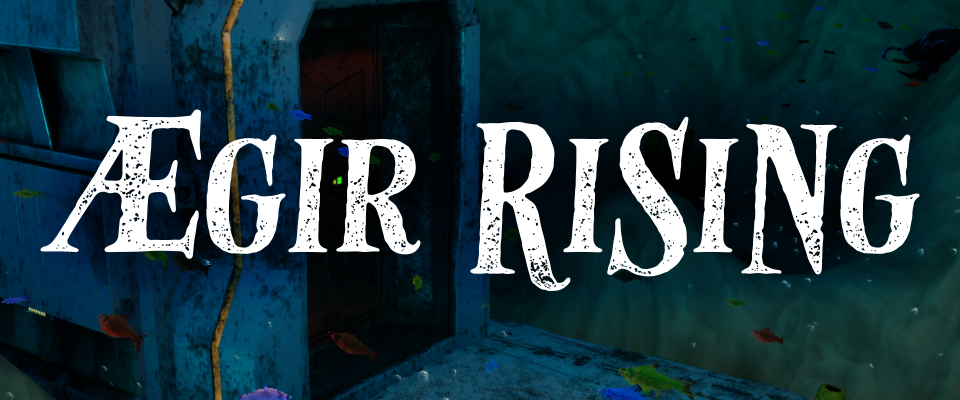 Aegir Rising
Post-jam Version Released
---
When the Dungeon Crawler 2022 Jam was announced, all I could think of for a month and a half was what kind of game I wanted to make. The best decision I made was to contact my buddy Eric, an amazing artist and 3d modeler. He agreed to jam with me and without him, Aegir Rising wouldn't look even a fraction as good.
We got started brainstorming and the sci-fi underwater theme with the irreverent AI (sorry, artificial entity) really resonated with us. We both wanted to use the Unreal Engine for this project which was a huge gamble since we barely dabbled with the engine before. In order to maximize our time, we wrote a design document before the jam to figure out what we needed to learn and what kinds of asset we'd need to make. Looking at the asset list, I'm glad we went with the cardboard cutout style for all the enemies, not only it was really silly, but also it saved us a lot of time that we didn't have to model, rig, and animate a bunch of actors.
We had to make a whole bunch of cuts during the jam in order to finish on time and the most painful one was to cut the submarine: you were supposed to be able to pilot a submarine, still in the grid-based way, and at any point "pull away" from the subs POV to move around inside it. You would use it to get to the various bases and then continue on foot. Too bad, we were so excited about that feature.
We hope you enjoy this game at least half as much as we enjoyed making it. And if you liked it, please consider leaving us a comment and check out thr other high quality entries in the jam!
Until next game!


Files
AegirRising v1.0.1 Windows
356 MB
Apr 25, 2022